About Healthcare Heroes
hackathon
The Healthcare Heroes hackathon is an incubator for innovative ideas that empower young adults to make a difference in healthcare. The hackathon journey includes knowledge sharing with professionals from all horizons, high-level coaching by experts, networking with motivated students, and the possibility to defend one's project in front of policy makers at the parliament.
As participants, you will be asked to form teams, which will be challenged to find their own solution to a current problem that will revolutionize tomorrow's healthcare world. Don't worry, you don't need any ideas or prior knowledge to participate in the event. Only your brain, your sense of initiative and your team spirit are required.
We truly believe that you can change the world. You have more power than you think. Now, it's your time to prove it! The Healthcare Heroes hackathon is an initiative of AbbVie BeLux.
Healthcare Heroes in a nutshell
The program is divided into two sessions:
Session 1

October 20 and 21, 2023 are the days of the hackathon. You will participate in brainstorming sessions where experts will coach you to push your ideas to the limit. At the end of these two days, you will defend your project in front of experts. Four teams will be named finalists and will move on to the next phase: the parliament presentation.

Session 2

February (TBD), 2024 is the day dedicated to the presentation of the four finalist projects in front of the political decision makers. One of the four teams will be crowned the winner of the 2023-2024 Healthcare Heroes hackathon.
We are sure that the prizes are not the only reason for your participation, but they are certainly a source of motivation.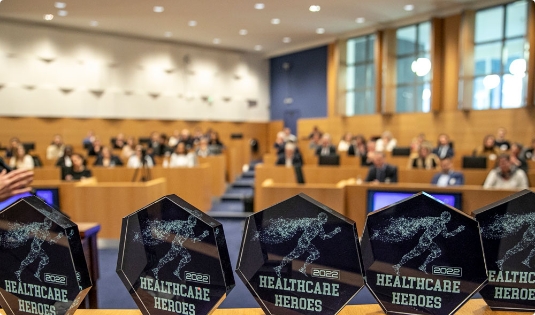 Only teams that have made it to session two of the hackathon will be eligible for prizes. If your team wins the final presentation at the parliamentary session, each member will receive a smart watch. In addition, members of the winning team will have the opportunity to apply to an internship at AbbVie's headquarters in Chicago or at an affiliate office in Europe.
While we cannot give a prize to all participants, the opportunity to interact with industry experts and participate in an event that will push your personal and professional boundaries is a reward in itself!
Healthcare Heroes
October 20 and 21, 2023
Be part of the event